Newport News Concrete Driveways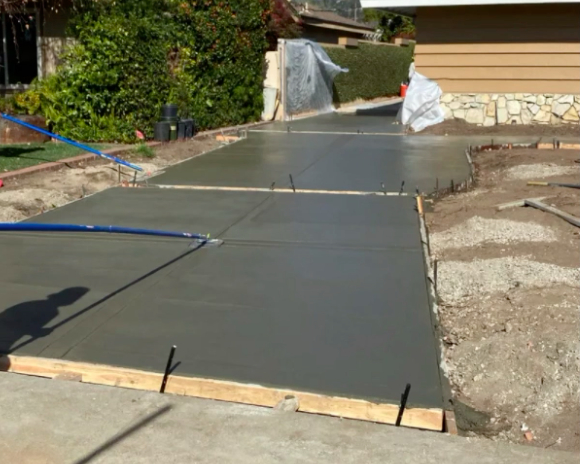 If you're considering a new concrete driveway for your Newport News home, or would just like to have an existing one repaired, contact the area's best in the business, Newport News Concrete Company. We specialize in concrete driveways and can provide you with a free estimate on your project.
When it comes to concrete driveways, we know what works and what doesn't. We only use the best materials and our workmanship is second to none. We're also fully insured for your protection.
Give us a call at (757) 586-4627 to get free estimates.
Concrete Slabs
For a no-frills approach to driveway installation, ask us about our poured concrete slabs. We can install a new concrete slab quickly and efficiently, and at a very competitive price.
Stamped Concrete Driveways
If you're looking for something a little more decorative, we also offer stamped concrete driveways. With this option, we can create a beautiful design in your concrete that will complement your home's existing architecture.
Choose from one of the many styles we have on offer, or dream one up on your own and we'll see what we can do. Stamped concrete driveways are a great way to add curb appeal to your home.
Concrete Pavers
Concrete pavers are pre-molded and come to the jobsite ready to install. This is a great option for those who want the look of stone or brick without the high price tag because pavers can mimic more expensive material quite convincingly.
We offer a wide variety of colors and styles to choose from, so you're sure to find the perfect match for your home.
Any Size, Any Shape
Whether you're looking for a winding entrance that is almost royal, or just a poured slab in front of your garage, we can accommodate any size or shape of driveway you need. Just let us know what you're looking for and we'll make it happen.
Contact Us Today!
If you're ready to get started on your new concrete driveway or would like to find out more about our services, contact Newport News Concrete Company today. We look forward to hearing from you.
Repair and Maintenance
If you already have a concrete driveway that's in need of repair, we can help with that too. We're experts at patching and sealing concrete driveways, and can also do complete resurfacing if necessary.
Does your driveway slope to one side? We do slabjacking to make things level again. No matter what sort of repair you may need for your concrete driveway, we're here to help.
Newport News Concrete Company is the leading provider of concrete driveway services in Newport News, VA. We specialize in concrete driveways, stamped concrete driveways, and concrete pavers. We also offer repair and maintenance services for existing concrete driveways. Contact us today for a free estimate on your project.
We're easy to reach at (757) 586-4627.