Newport News Stamped Patio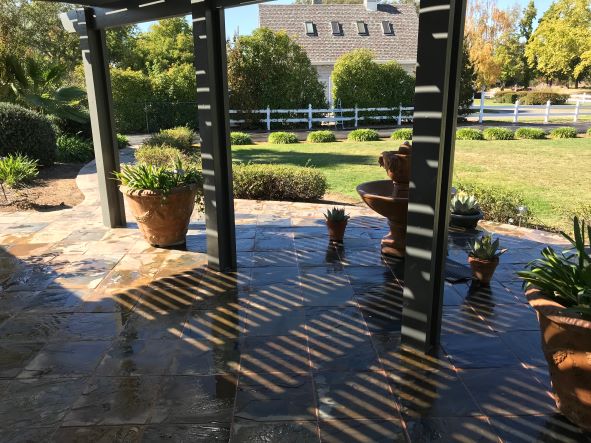 So you'd like a new patio for your Tidewater region home, but nothing too plain or drab. You want something that pops a little–or at least looks a bit more interesting than average, run-of-the-mill stuff (the kind you see in Miami Beach or Beverly Hills, right?).
Say no more, because Newport News Concrete Company can feel your pain. Our stamped patios give your home that extra pizzazz without breaking the bank. 
Give us a call at (757) 586-4627 to get free estimates.
What Is A Stamped Patio?
What is a stamped patio, you might ask? It's basically concrete that's been textured or embossed with a pattern, usually to resemble stone, brick, tile, or even wood. The process starts with a high-quality, color-enhanced concrete mix being poured into place. Then, once it begins to set up, we use a special stamping tool to create the desired pattern.
After the pattern has been set, we then apply a sealer to protect it from the elements and ensure its longevity.
A Trend That Never Ends
Stamped patios are becoming increasingly popular in our area for their beauty and versatility. Whether you're looking to add a touch of elegance to your outdoor living space or simply want something a little more interesting than the norm, we can help.
Newport News Concrete Company is the premier provider of stamped concrete patios in the Tidewater region. We have over a decade of experience in the business, and our team of highly trained professionals is second to none.
We use only the highest quality materials and workmanship to ensure that your patio will last for years to come. And because we stand behind our work, we offer a 100% satisfaction guarantee on all of our services.
How Much Does A Stamped Patio Cost?
The cost of a stamped patio depends on a number of factors, such as the size and complexity of the project. However, our prices are very competitive, and we offer financing options to make your dream patio a reality.
When you contact us, you'll speak with a member of our courteous and efficient staff who can answer ALL of your stamped patio questions. Try to stump him—we dare you.
Schedule A Free Consultation
If you're interested in learning more about our stamped concrete patios in Newport News, we invite you to schedule a free consultation. We'll come to your home, take a look at your outdoor space, and provide you with a no-obligation quote. Call us today to get started. We're easy to reach at (757) 586-4627.