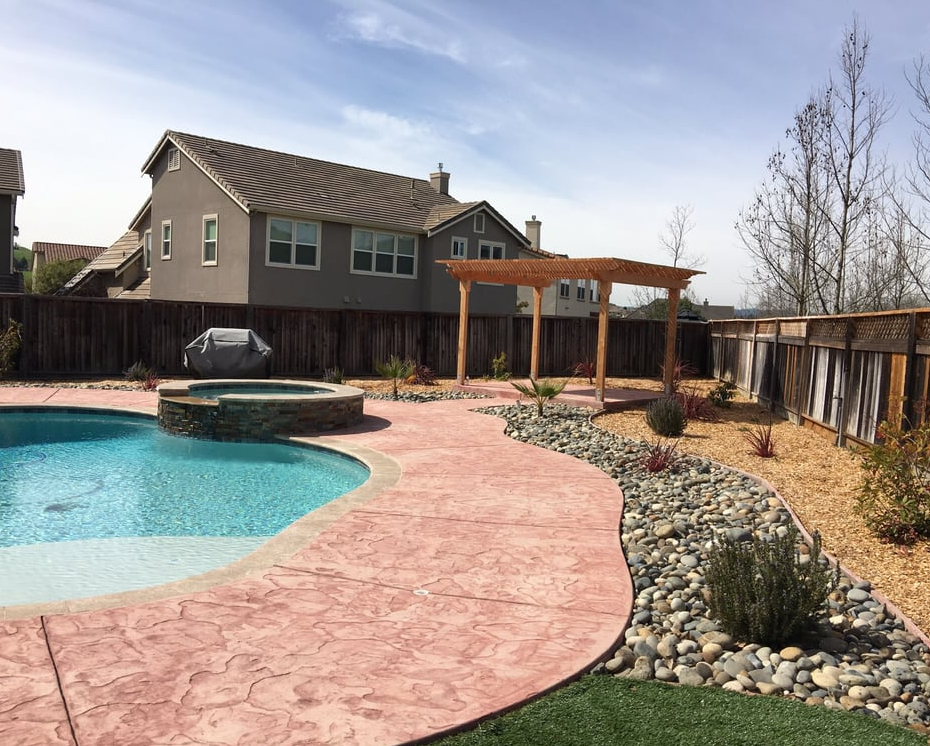 Newport News Concrete Company handles construction in everything from patios to driveways to pool decks and more. We've been all over the Tidewater area building awesome hardscape amenities for decades. If you're in the market for a new concrete installation or a repair to an existing one, we're the company to call.
Give us a call at (757) 586-4627 to learn more about Newport News concrete contractor.
Patios
We are the one, the only, Newport News Concrete Company. For new patios, we'll come out, meet with you, and help you design the perfect outdoor living space. We'll talk through all of your options and make sure that we're on the same page before we get started. After that, it's time to get to work! We'll excavate the area, pour the concrete, finish it off however you like, and have you grilling on your new patio in no time.
And we would be remiss not to mention our patio enclosures. These are a great way to add value to your home and get some extra living space. We can build a custom enclosure to match your patio perfectly.
Driveways
Your home is your castle and your driveway is the drawbridge. It's important to have a driveway that makes a good impression and can withstand the elements. That's where Newport News Concrete Company comes in. We specialize in concrete driveways that are built to last. We can do stamped concrete, colored concrete, and even repair your existing driveway if it's in need of some work.
Whether you want a poured concrete slab or decorative pavers, we've got you covered. You'll also have plenty of design choices. Our team can help you choose the perfect style for your home.
Pool Decks
If you've got a pool, you need a deck. It's just that simple. But not all decks are created equal. You want a deck that's going to look good and last for years to come. That's where Newport News Concrete Company comes in. We specialize in creating beautiful pool decks that will stand the test of time. We can do stamped concrete, colored concrete, and more. We'll work with you to create a design that fits your home and your lifestyle.
Concrete Staining and Sealing
If you have an existing concrete installation that's starting to show its age, we can help. We offer concrete staining and sealing services that will make your concrete look new again. We'll come out, assess the situation, and recommend the best course of action. We'll also talk to you about how to maintain your newly refinished concrete so that it will last for years to come.
Concrete, Brick, and Natural Stone Repairs
In addition to new installations, we can make your existing amenity look like new again with repairs that include concrete overlay, paver replacement, slabjacking, and patching. 
We're the only company you need to call for all of your concrete needs. We have the experience and the expertise to get the job done right. Contact us today to get started!
Newport News Concrete Company is the leading provider of concrete services in the Tidewater area. We have been servicing the area for over 20 years and have built a reputation for quality workmanship and customer service. We offer a variety of services including patio installation, driveway repair, pool deck construction, and more. We are dedicated to providing our customers with the best possible experience and will work with you to ensure that your project is completed to your satisfaction.
Call us now at (757) 586-4627.